As my Group are looking into swapping for our Forum for the Future scenario we decided to attend the swapping event being held at the V&A at the weekend. As well as the swapping, there were also a talk about
restyling your wardrobe
and the chance to meet Saville Row tailors.
The talk was given by Elizabeth Lasker from the Ethical Fashion Forum. She spoke about the rise of ethical fashion and the issue of the supply chain. She promoted such brands as People Tree, Junky Restyling (which she had a suit remade by on display, see below), TRAID and Ciel, which to my surprise the majority of the audience were unaware of. So, to make us feel better, we know rather a lot about ethical fashion! She went on to explain the rise of vintage and how it is important to educate the next generation about how to examine, in order to encourage them to wear and buy vintage clothing.
Some interesting points or facts from the talk:
$1trillion spent globally on fashion in 2000.
Of the stock supplied to charity shops, 1/3 goes straight to landfill, 1/3 is sold in the store and 1/3 is brought up and sold overseas (where there are issues over wiping out local trade).
The 3 P's is the new way to see and do business:

P

eople,

P

rofit and

P

lanet.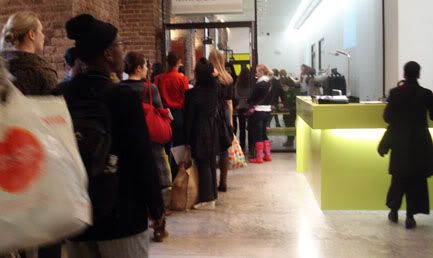 With the talk over, we headed to the swapping event. By the time we arrived, it was already a mad house. I almost felt that I was in Primark the way people were grabbing whatever they could and throwing down what they were unimpressed with. I found this somewhat disheartening, as I thought people would respect the clothing that somebody else had worn (and perhaps cherished). I was also disappointed to see that people didn't particulary connect with one another, they were too focused on the task in hand.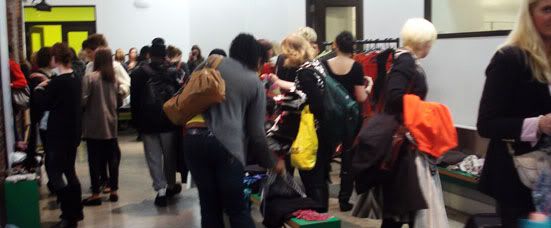 I forgot to mention that I had brought along to the event a vintage shirt, so I had the opportunity to swap vintage! However by the time I reached the vintage area (5-10 minutes after the swapfloor opened), almost everything had been hoovered up! I ventured to the knitwear section and found a cute knitted polo shirt which appeared to have never been worn (not a bobble in sight). (While I was swapping, Ivan and Zoe spoke to the Saville Row tailors).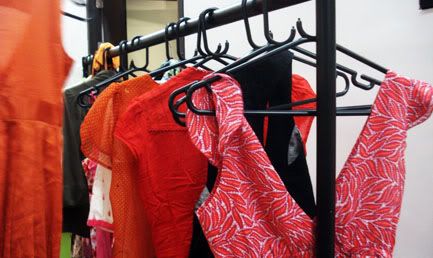 I headed to the queue to 'swap' my ticket for the shirt where I spoke to/interviewed a fellow swapper. We had a friendly chat; she saw the event as a 'great opportunity to clear out her wardrobe' and was looking for things for her daughter rather than herself.
On leaving the event, I spoke to two girlfriends probably in their late teens. This was there irst time at a swapping event and they admitted that they found it a little 'stressful' at first as it was like a 'free for all'. They also said something similar to the previous lady, 'it's a good way to turn around your wardrobe and not spend money'.
I left feeling satisfied that I had swapped a garment I never wear for one that I probably will. On reflection I felt the event was a success in preventing people consuming more products as well as having the opportunity to change and add to their wardrobes, however when the 'atmosphere' (get it?!) feels like a Saturday afternoon in Primark that's when I start to worry.